Caribbean Sailing Adventure to St. Lucia & Beyond…a fantasy voyage.
by Steve York, York & Co
Volume 6 of Westminster Teak's Trade Stories Series

Our fantasy begins here...
Streams of early morning sunlight slipped in through the partially drawn blinds over the large wrap-around windows of our elegant and cozy cabin aboard this stately Moorings 5800 6-Cabin sailing catamaran. A distinctively sweet Caribbean breeze wafted its way down the steps from above on deck. All that, plus a gentle sway beneath the island berth of our spacious stateroom left no doubt…we were on the water!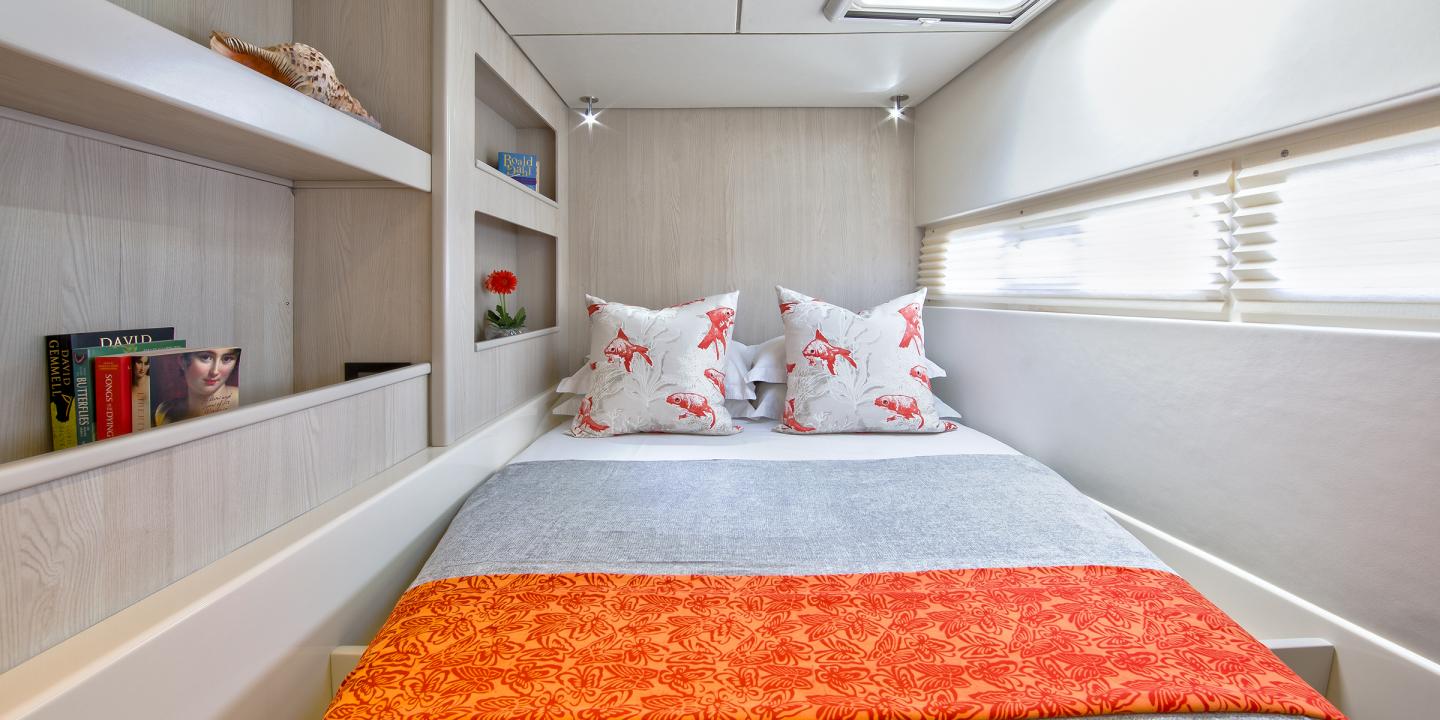 We'd been planning this charter cruise for months ever since some neighbors shared experiences of their yachting trip from last year. They chose The Moorings' 7-Day British Virgin Islands (BVI) charter sailing those crystal blue Caribbean waters along coastal coral reefs, getting up close and personal with amazing marine life and making frequent port stops to check out quaint colorful villages with unique shops, inland bars, restaurants and beautiful island beaches.
Their itinerary began at The Moorings' BVI home base in Road Town, Tortola and spent the next seven days touring Cooper Island; wading through world famous towering boulder Baths at Virgin Gorda Island; two days at Anegada Island with its salt ponds, countless flocks of beautiful birds and iconic Caribbean pink flamingos, an overnight at Trellis Bay celebrated for its Trellis Bay Full Moon parties featuring fire balls on the water and live entertainment. Then on to day-six and another overnight at Great Harbor in sight of the heights of Jost Van Dyke rising above a turquoise sea…also home to the legendary Soggy Dollar Bar…(among others) at White Bay; and finally wrapping up their day-7 at "the Bight" on Norman Island. NOTE: The "Soggy Dollar" got its name from all the dollar bill tips left to soak on an already-soggy-rum-soaked bar.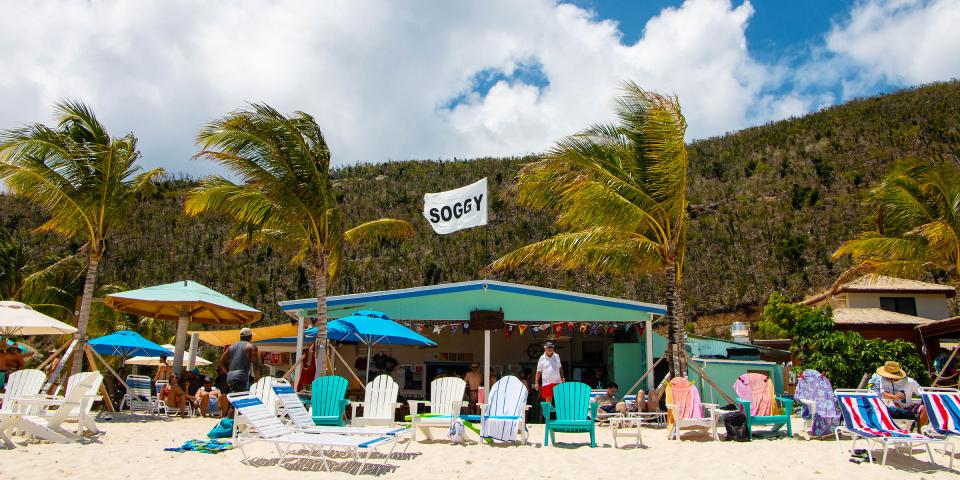 The cell videos and photos or their voyage were too enticing not to immediately begin picturing us in those images. And the more we learned about their experiences with The Moorings yacht charter and travel services, the more enchanted we became.
We were also intrigued with the yacht company's somewhat iconic nautical name, "The Moorings". By definition, "A mooring is a term referring to a place or a means by which a ship, boat or any kind of water vessel is secured or moored." It can include a simple boat dock, a large marina, the boat's rigging, its anchoring gear or anything that keeps the vessel safely in place rather than free-floating in the water. And, as we were to learn, in the case of "The Moorings'" name, it would suggest all the many exotic destinations and ports the company's yachts may find themselves moored to on any given day.
But, before getting too intoxicated with the idea, we decided to do our own homework. So, we quickly pulled up The Moorings website on our laptop (www.moorings.com). We checked out their twenty distinctively exotic charter destinations all around the world, their line of charter yachts, the videos and photographs of actual charters from all those destinations, posted charter blogs, their extensive menu of customer services and all the extra amenities they provide with each type of charter.
By the way, those 20 exotic charter destinations include the Americas, the Caribbean, Tahiti, Tonga, the Mediterranean, Thailand and the exotic Seychelles. And the specific options within those packages could not be more perfectly designed. Add to that a huge choice of both Catamarans (both sail and powered) as well as monohull sailing yachts; plus, a variety of models and sizes featuring anywhere from two to five cabins. And, if you're of the mind to actually purchase a yacht, The Moorings' reps can provide all the options. On top of all those choices, they provide comprehensive one-on-one vacation planning and complete air and ground travel services. What more could we ask?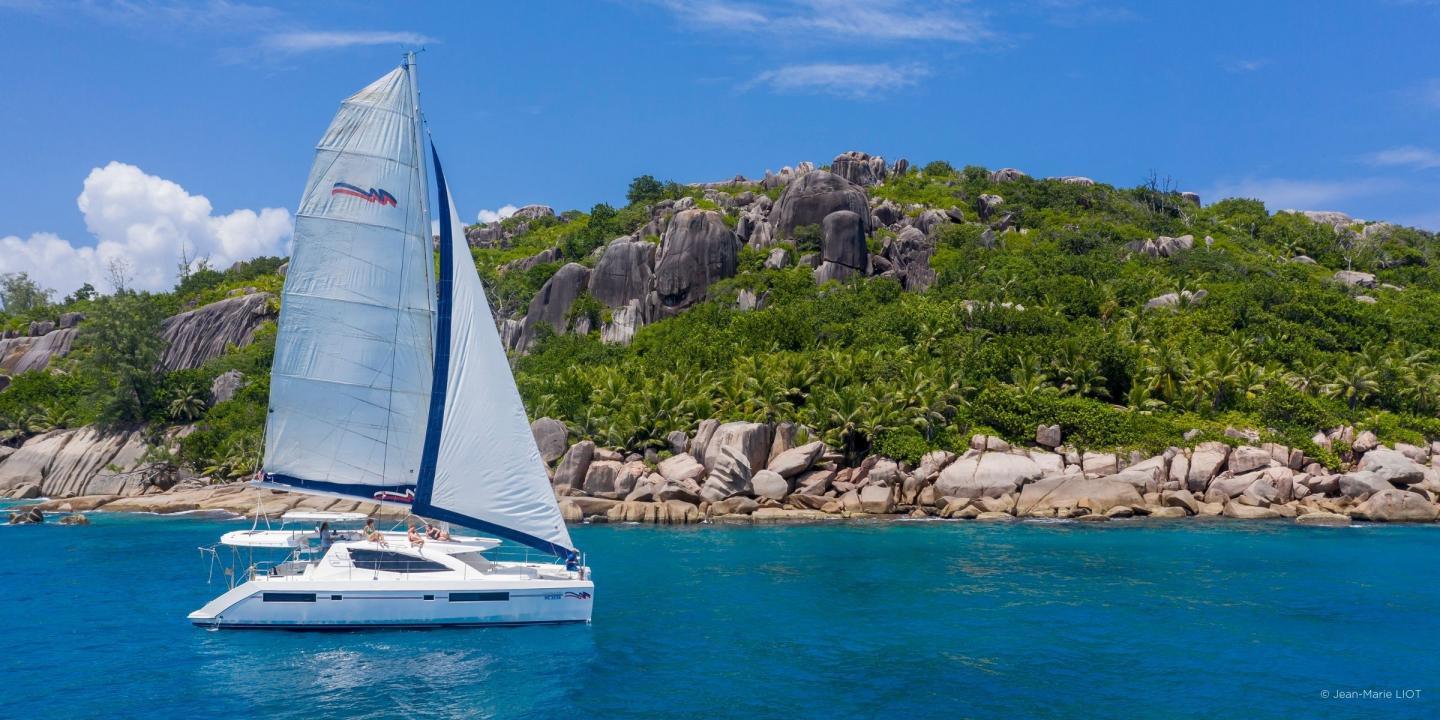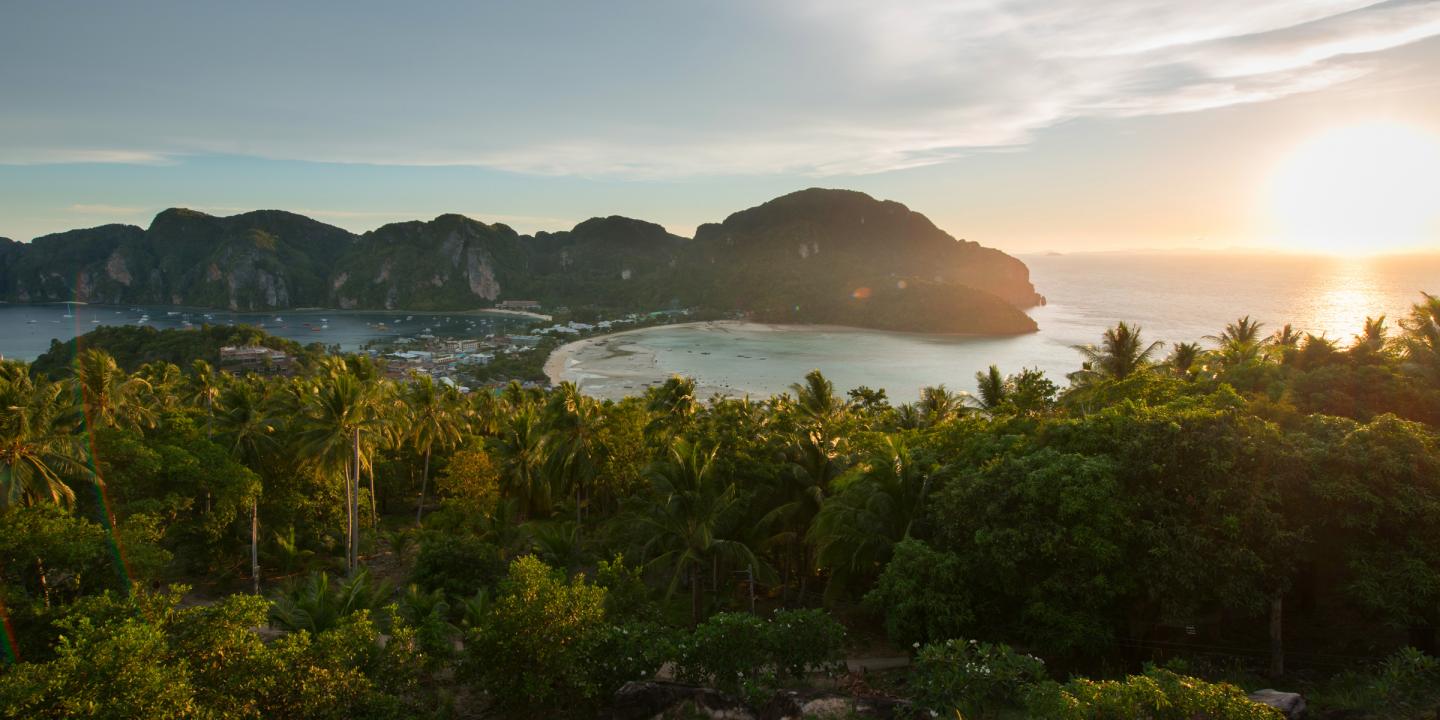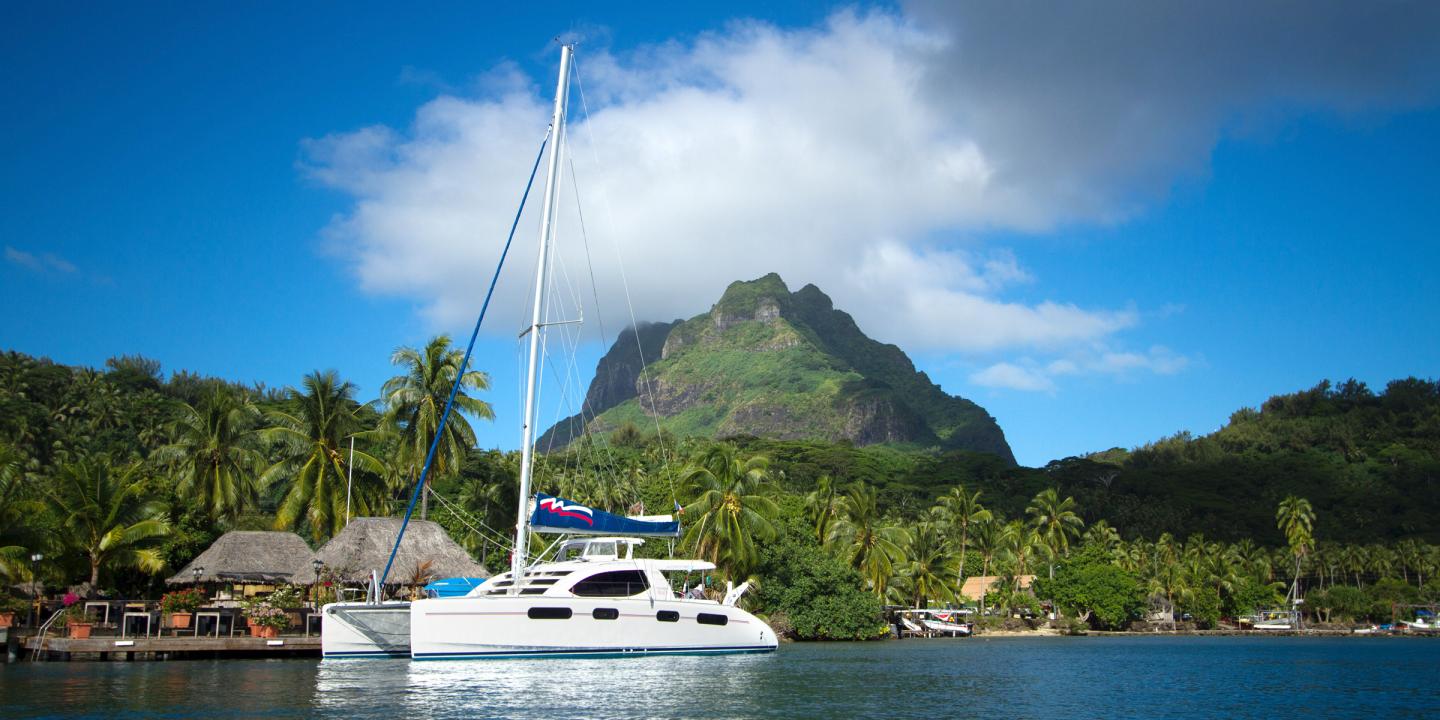 We also dug a little deeper into The Moorings' history and company development. After all, before investing in a major excursion like this, you want to feel confident you're dealing with an established and credited operation.
According to The Moorings' backstory, their voyage to becoming the premier yacht charter and travel service began over 50-years ago in 1969 when a Navy veteran and passionate sailing enthusiast named Charlie Cary had the dream to take his passion to a whole new level and actually create a yachting charter business.
The story goes that Charlie met another fellow "salty sailing" enthusiast named Tony Rainold and, together, they pooled their passions and resources and made the commitment to launch their company. The story also goes that their passions and commitments were likely fueled in part by ample rounds of authentic Caribbean Island rum.
Charlie and his wife, Ginny, along with partners, Tony and Sherryl Rainold, began with only six Pearson-brand yachts. Charlie and Ginny handled on-site charter operations while Tony and Sherryl managed marketing and charter bookings from their home in New Orleans. And, with that modest beginning, they immediately began working non-stop to build on their dream. Charlie and Ginny lived out of a small hotel room located nearby their Road Town marina located in the center of the south coast of Tortola, the capital of the British Virgin Islands.
From all accountings, the Cary's and Rainold's began to quickly establish a reputation for treating all their customers as "family", earning an enduring customer loyalty plus gaining widespread respect from everyone in the charter sailing and travel industries.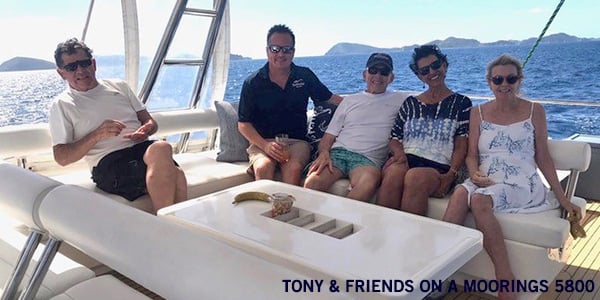 Well…as if that wasn't enough, it turns out that The Moorings was awarded the 2021 Traveler's Choice Award by TripAdvisor, the world's largest travel site and review sharing online platform. And, as for celebrity affiliation, the ITV production of Gordon, Gino and Fred Go Greek featuring famous celebrity chefs Gordon Ramsay, Gino D'Acampo and Fred Sireix chose to charter The Moorings 514
Power Catamaran as their official yacht for their 2021 televised series sailing cooking tour around the Greek Islands and Athens.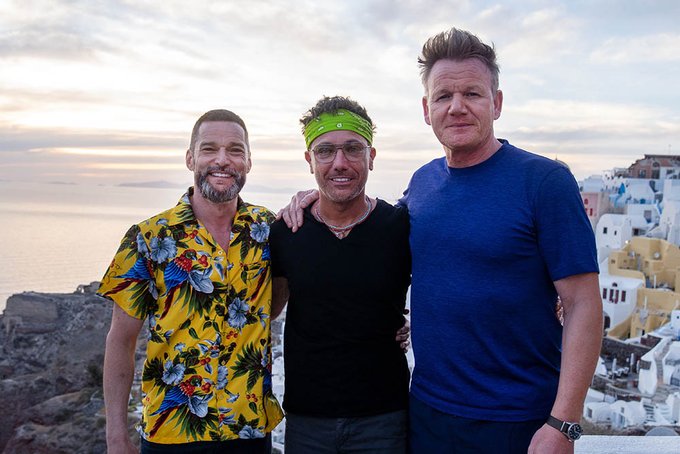 (Fred Sireix, Gino D'Acampo & Gordon Ramsay)
So, did all that sync our choice of The Moorings? Well, there was one more step; maybe unnecessary, but never a bad idea: actual customer comments. We screened quite a few and highlighted some that seemed to point to our main interest. For example: "It was a simple, frustration free experience. Easy planning, easy getting in, flexibility of the staff. Highly recommend!" (Valerii T., St. Lucia). Another one that caught our attention was, "All aspects of the charter went well from booking to sailing. The boat was in great shape. The captain really made our trip. He was fantastic" (Barbara H., Tahiti). And, finally, we noted this one, "You make sailing trips easy in faraway places. Boats are predictable, in very solid condition, and service from the entire staff is excellent." (Brent M., BVI)
Between all those accolades plus our neighbor's first-hand experience…our next questions were… Whether to go with a monohull sail yacht or catamaran? How many in our sailing party? Whether we needed a full crew with skipper and chef…or take an actual sailing course and command the helm solo?
If doing the solo thing, we could have taken advantage of The Moorings' partnership with Offshore Sailing School. It's rated American's #1 sailing operation for training both beginners and veteran sailors and offers courses in either sail or power charters. But there was another couple we wanted to invite along. They were long-time, best friends and we'd always loved sharing these kinds of adventures with them.
So, after a little more research and group discussion, we decided we'd prefer the fully-crewed and skippered option so that our only responsibility was "having fun". And, with that decision, the larger Moorings 5800 series catamaran yacht was a no-brainer. After all, we wanted a great experience with all the amenities and the 5800 is the yacht most preferred for a fully-crewed catamaran voyage…and especially so once we learned more about what makes a catamaran a "catamaran".
SIDELINE NOTE: Although the company was founded way back in 1969, they didn't actually begin adding catamarans to their charter fleet until the mid-1990's. And that decision came after a lot of research. Ultimately, The Moorings chose Roberson & Caine builders out of Cape Town, South Africa to craft their catamarans; including the 5800 series that they ultimately chose.
The Roberson & Caine track record was unmatched for building sleek, elegant yet rugged catamarans that were spacious, simple to maintain, easy to handle and, thus, fun to sail. These catamarans were designed to be seaworthy enough to safely sail the 7,500 miles and more across the challenging Atlantic all the way from their homebase in South Africa to Caribbean ports in the Bahamas, the British Virgin Islands and beyond.
Following the addition of catamarans, The Moorings continued to grow their staff, charter destinations, charter packages and range of yachts. Today, their award-winning fleet of over 400 yachts include both monohulls sailing yachts as well as a large selection of sail and powered catamarans. And their packages include everything from self-piloting charters to fully crewed charters featuring a skipper, crew and even a chef. They even offer accredited training courses for the solo adventurer. And, although the Cary's and Rainold's are no longer involved in the company, they certainly helped set a course for The Moorings to become the yacht charter/travel agency of choice for an ever-growing number of customers worldwide.
The first recorded origins of a catamaran type vessel date as far back as the 5th century C.E. in Tamil Nadu, India; though it's certain that similar boats were crafted long before using two side-by-side, hollowed-out logs roped together with tree branches. Later, those Indian catamarans (or kattumaram in the native Tamil tongue) consisted of a couple of low-profile, canoe-type fishing boats that were separated several feet apart and linked together with two connecting boards or posts. This gave them two hulls into which they could carry their catch and, as they had discovered, the twin hulls gave them more stability in the water. The ancient Tamil Chola dynasty of that era also used their catamarans to help move their naval fleets when invading other Southeast Asian enemy regions.
Modern catamarans also feature two hulls side-by-side with a good-sized gap between which are separated and connected by an above-waterline covered platform deck and cockpit. This is very different from a traditional sailing yacht with a single hull. The two catamaran hulls with that open gap area enables sunlight (or moonlight glistening off the waters) to enter from all sides and from either end.
This two-hull design makes the total body size of the boat much bigger yet with less of its hulls' overall mass being below water. And that is ideal for sailing in shallower waters such as are typical of our Caribbean destinations. Another advantage of having dual hulls' is better control against wind speeds and wind direction. While one of the hulls would receive a direct hit from the windward side, the other hull—connected but also separated by the large, covered deck platform—isn't as affected by that wind. It functions as a separate balancing feature. And, as those earlier fishermen found, this helps to steady the yacht for easier manageability in the water.
That extra balancing factor also gives the catamaran a much smoother ride especially in rougher waters. Less jostling from side-to-side is a welcome benefit for anyone prone to even the slightest seasickness. Beyond that, because they are much wider, then there is a wealth of space to move around in. The extra width is used to create more spaces to sit and socialize in (as opposed to just the cockpit or saloon area on a yacht), to offer bigger cabins (and beds), more bathrooms (or 'heads') – often most cabins on a catamaran are in-suite.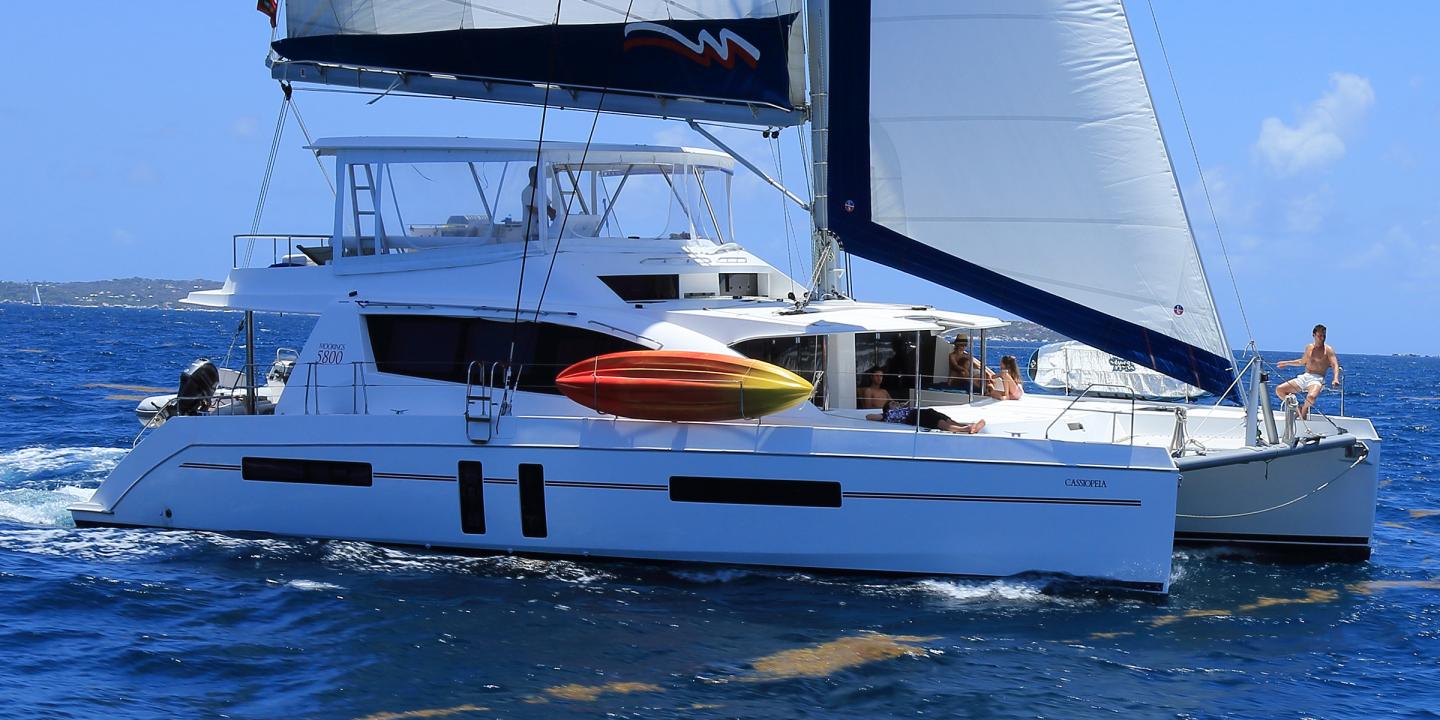 Likewise, the galley area can be more expansive, and can offer plenty of worktop space, saloon, larger ranges and microwaves for cooking, deck-top grills, dishwashers, full-size fridges and freezers, and all sorts of other modern conveniences which add to the sense of luxury (and which can be rare on a yacht). There's also more space for lounging around and sun-bathing in, and the 'deck' is usually higher up than a yacht (all the better for diving into the sea directly from the yacht.
By the way, these unique characteristics of a catamaran take nothing away from The Mooring's magnificent monohull sailing yachts that we considered. They are as elegant, well-designed, expertly crafted and amenity-packed as their line of "cats". Plus, they are pure poetry in the water giving you a true timeless sensation of linking your sailing experience with that of countless ancient mariners dating back to the dawn of sailing craft.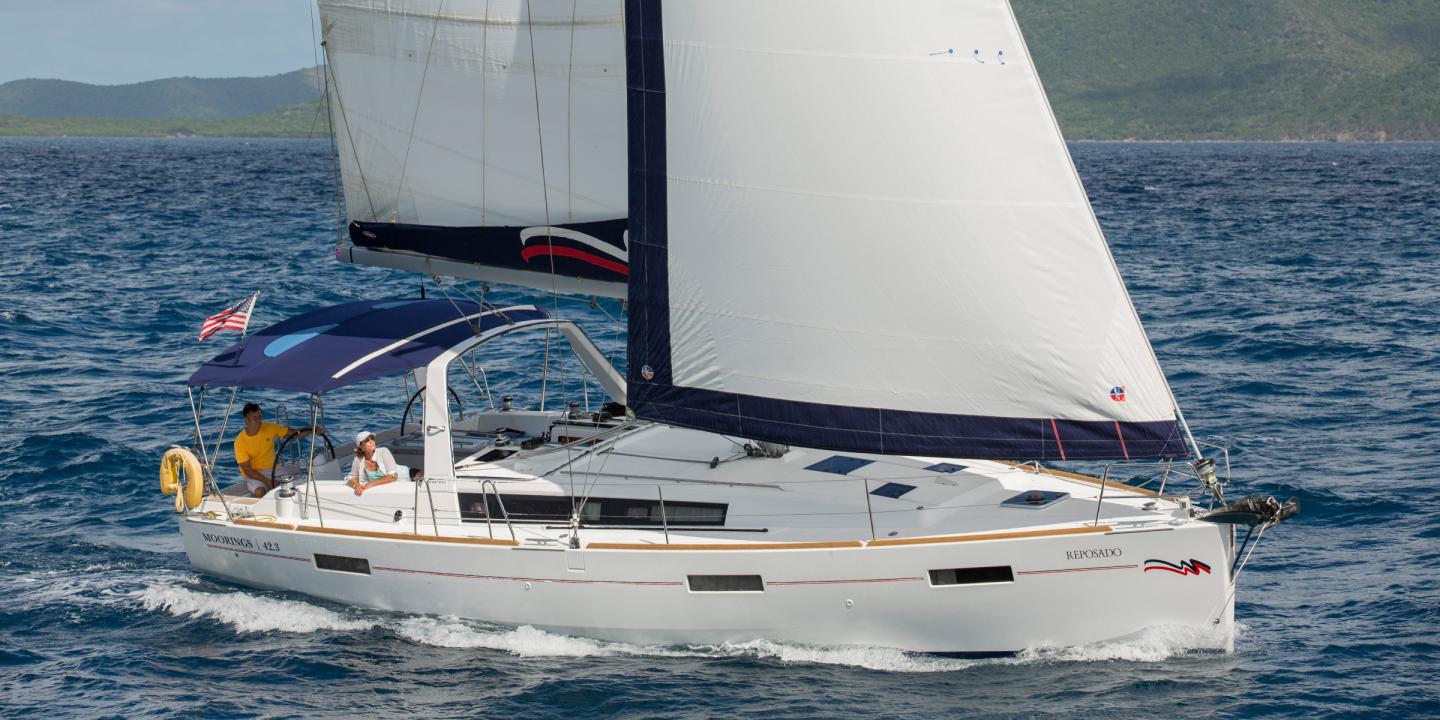 But, in our case, it was simply a matter of certain practical decisions for our group. So, with the Moorings 5800 Catamaran and full crew decision firmed up…now, the only two remaining questions were, "Which exotic destinations? And most urgent of all, "How soon can we make this happen?"
The answers to those two questions weren't as easy as you may think. There were no "lesser than" charter destination packages. All were uniquely amazing and all offered a full serving of rich experiences to punctuate each moment of each day. But, given a little more discussion, the "Where" consensus came quickly…the Caribbean and The Moorings' 7-Day Saint Lucia package!
As for the, "When"? Well, we could think of no better time to escape a cold, gray and white snow-covered winter back home than some time following the December/January seasonal holidays; trading that cold, gray and white snow-covered setting for warm, colorful and white sand-covered beaches. And, according to most sources, mid-December to mid-April offers the warmest weather with the most sunshine and high temps averaging a perfect 75 to 85.
So, with that last decision, there was nothing left to do but let The Moorings' travel experts help us plan our adventure, confirm our itinerary and book all our travel arrangements. And, when the day came to fly out, we were more than ready to get this St. Lucia adventure underway. While in flight, we took the opportunity to brush up a little more on our basic St. Lucia vacation info packet.
FYI…St. Lucia 101
The ever-popular destination island of St. Lucia sits on the outer western curvature and a little over midway down along the crescent-shaped string of the Windward Islands in the Lesser Antilles. These islands include Dominica, Martinique, St. Lucia, Barbados, St. Vincent, Grenada and Tobago. Once a French colony and then British owned, it gained independence in 1979 and is part of the Commonwealth of Nations. Castries is its capital, it largest city and the largest St. Lucia port.
Volcanic in origin, St. Lucia's landscape is largely dominated by a dense jungle terrain and a central ridge of forested mountains such as its highest, Mount Gimie, which rises to 3,143 feet above sea level. St. Lucia is the largest of these Windward Islands and is lush with banana plantations, wild orchids and abundant flora, tropical birds, picturesque hamlets, rivers, 98.2 miles of white sandy beaches, beautiful harbors reminiscent of an older Caribbean era and exotic waterfalls like the nearly 50-foot high Toraille which cascades over a cliff into a Eden-like garden.
(St. Lucia Aerial)
(Segmented Map)
(Toraille Waterfall)
St. Lucia is a 238.2 square mile, 27-mile long, 14-mile wide world of enchantment with ports and beaches that offer boating, swimming, windsurfing, kayaking, snorkeling and scuba diving up, down and all around the island. And, to be candid, we could have easily spent our entire vacation just touring St. Lucia; often called the "beauty queen of the Caribbean". But we definitely wanted a larger Windward Islands experience and, besides, our second day itinerary was to give us more than a good taste of many St. Lucia key attractions.
Our Arrival In St. Lucia
We'd flown into St. Lucia in mid-afternoon the day before our charter was to begin and gone through Customs at the Hewanorra International Airport near the southern tip of St. Lucia (Passports required). A scenic one-hour-plus taxi ride north to The Moorings' Rodney Bay marina gave us a good feel for the terrain and potential sites to visit during our first couple days on this magical island.
Our earlier talks with The Moorings' vacation planning specialists let us know that the Eastern Caribbean Dollar is the official currency in St. Lucia, but that US Dollars, VISA and Mastercard are also widely accepted. Good info since our plans included shopping, dining and periodic pit stops at several of the many famous island beach bars along the way.
The Moorings' vacation travel agents had also recommended several dining and lodging options for our pre-charter overnight stay in the Rodney Bay port town. And, by arriving a day early, we had a chance to get our bearings, review our charter plans and rest up for the next day.
DAY 1…Rodney Bay and Upper Saint Lucia
The Adventure begins! We were moored in the beautiful Rodney Bay Marina near the western northern tip of this island paradise, soon to set sail…and life was good!
(RODNEY BAY)
We connected with The Moorings' marina team at noon and began our yacht and charter prep while the crew and staff loaded up all the supplies that came included in our charter. It's a generous laundry list of essentials and desirables especially planned for our tour and is designed to cover all contingencies plus provide us with a totally comfortable and enjoyable seven days at sea. Before boarding, we were given a full itinerary briefing. Then, once on board, our captain and crew had given us a complete rundown on the workings and amenities of our elegant 5800 Catamaran.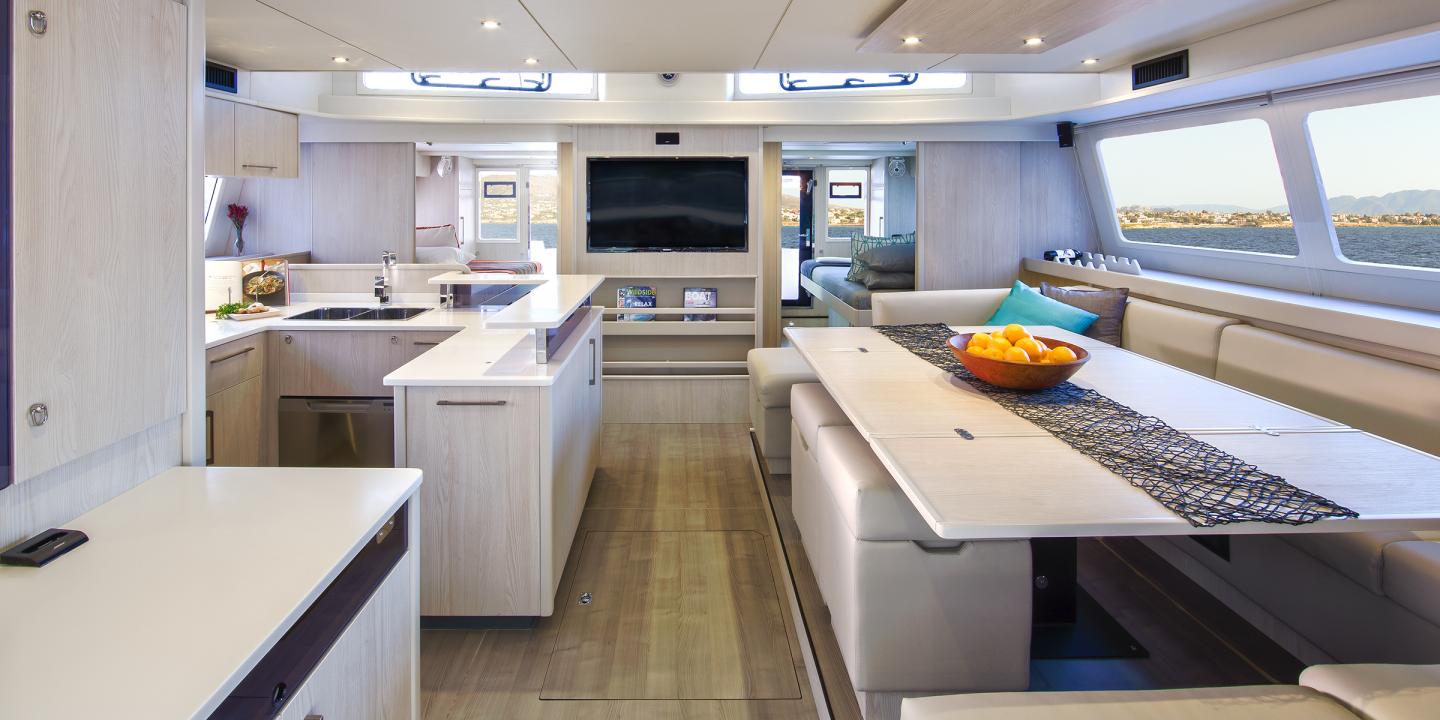 (Saloon & Kitchen)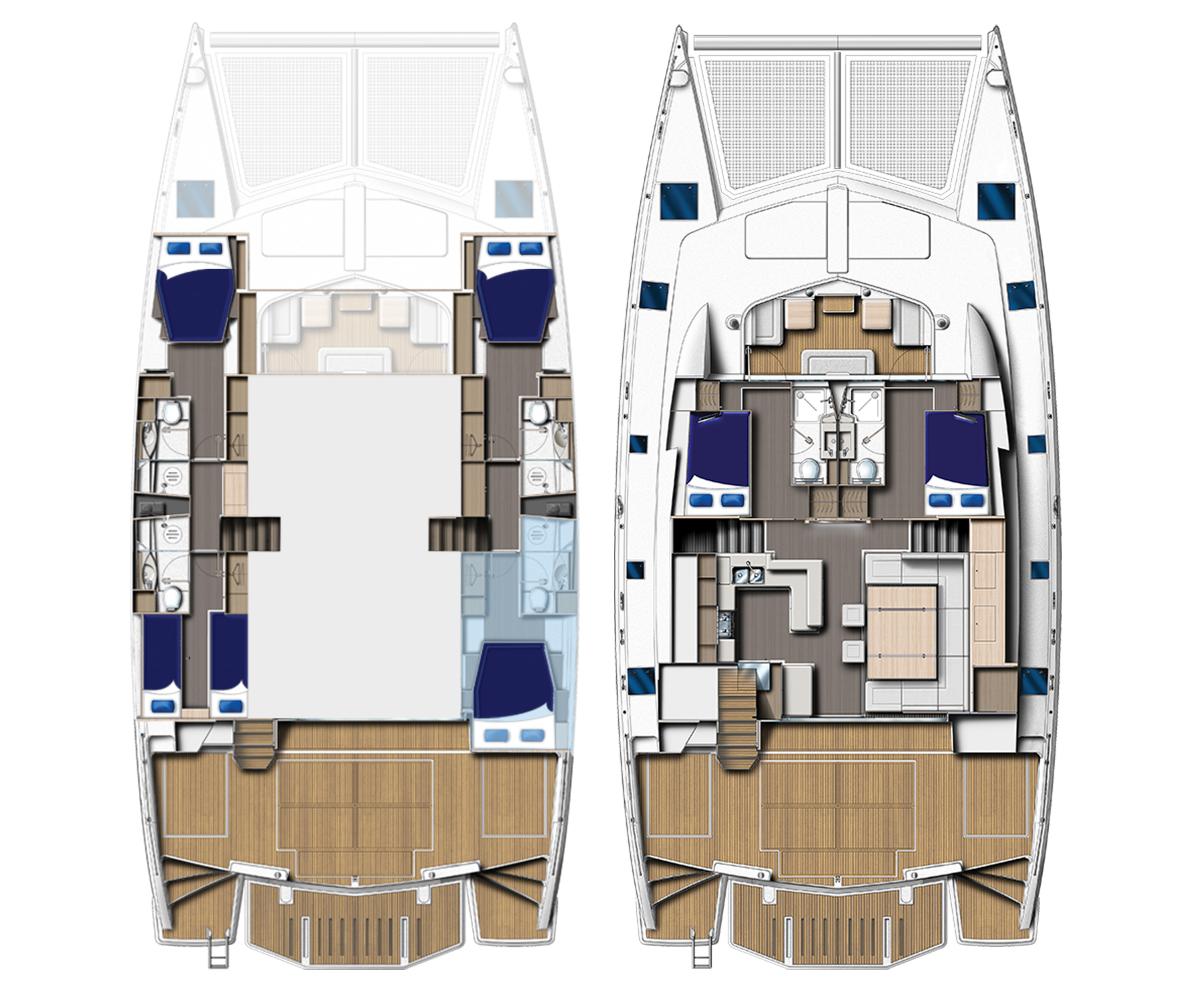 (Yacht Layout)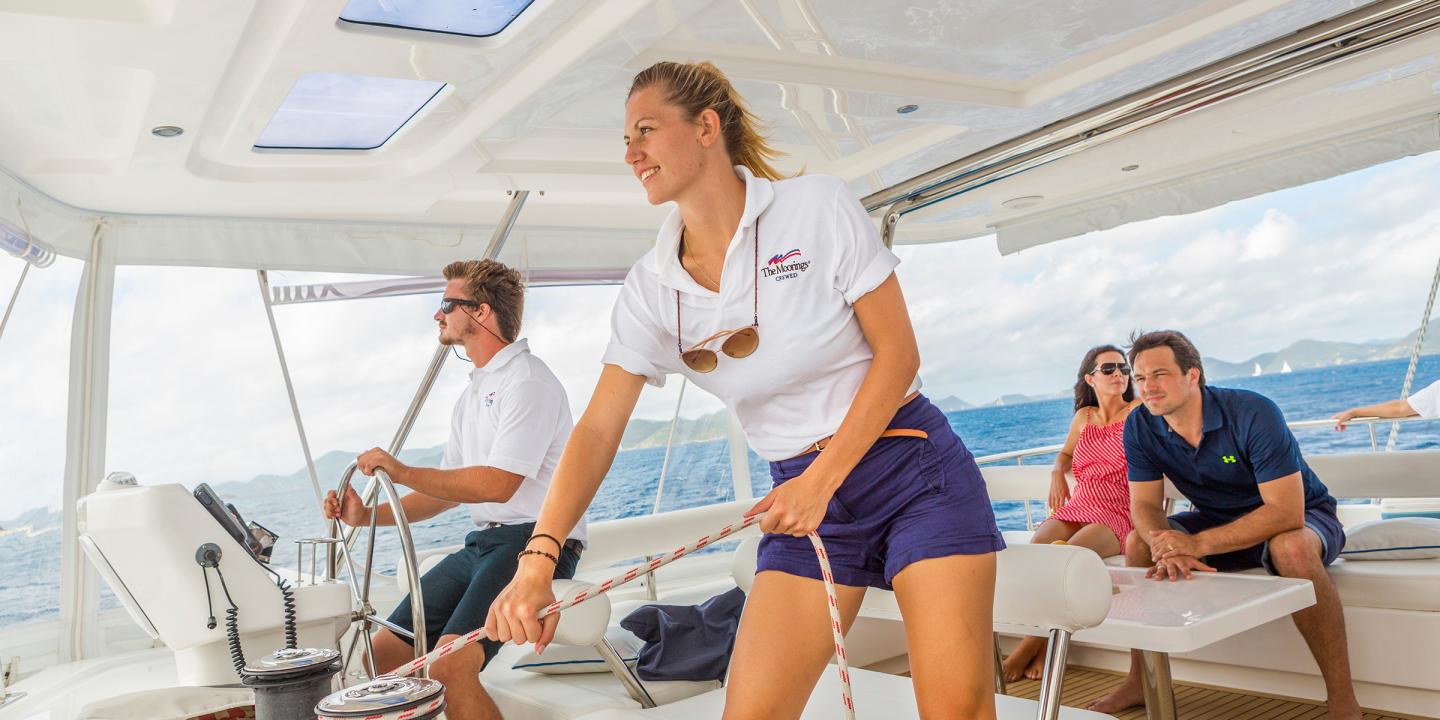 (The Moorings Crew at Helm)
After a thorough briefing on the yacht, we selected our cabin berths, unpacked, took a little time to check out our crew's sailing prep operations at the helm and then reviewed our plans for our first day in St. Lucia.
The unanimous choice was to go back ashore asap and check out all the sites in and around Rodney Bay. Once on land, we took a little time to tour around key points of interest in and around the immediate bay scene and then decided to take a junket across the bay over to nearby Pigeon Island National Park and historic Fort Rodney. And it was more than worth the time. The Park's legacy is fascinating, and its setting is both inspiring and ripe with grand views across the bay.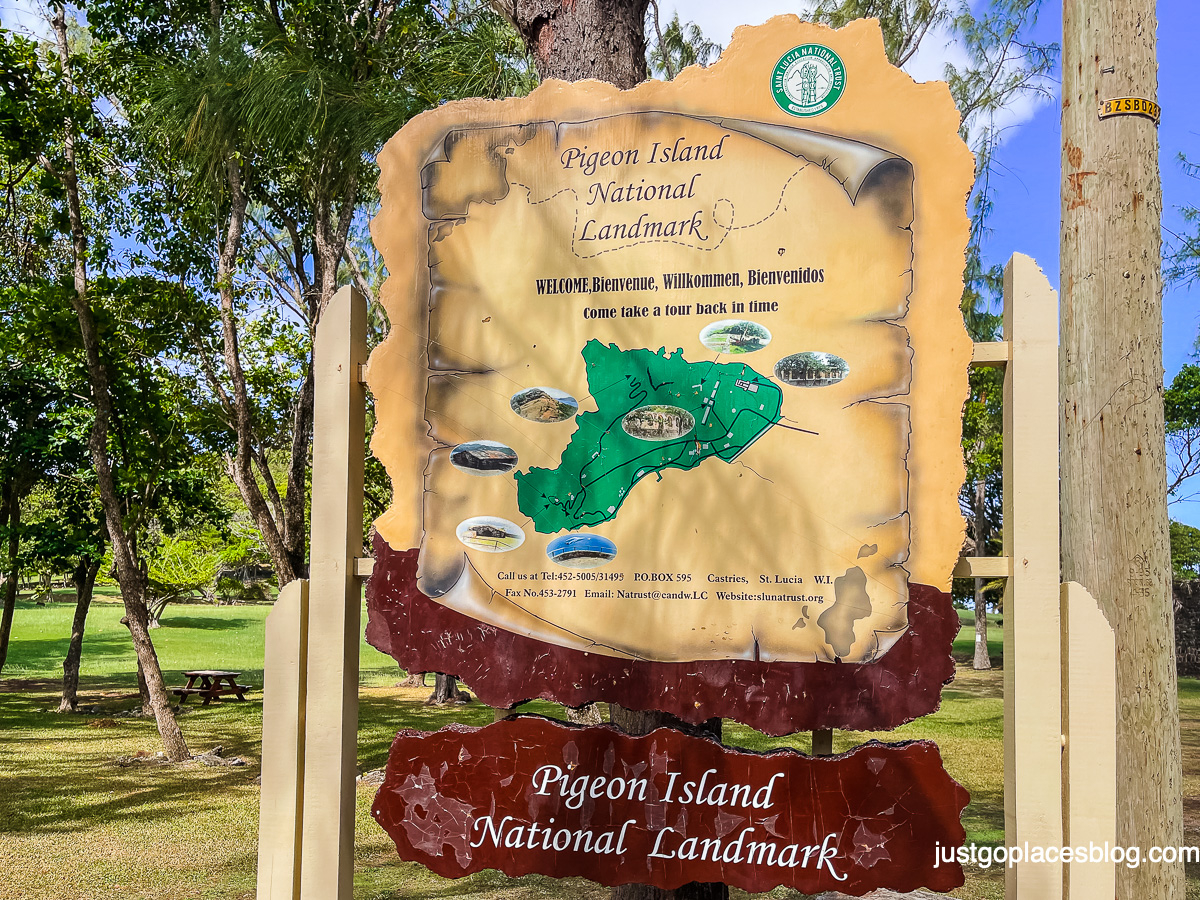 After that excursion, we took a refreshing dip in the waters at Reduit Beach and then decided to spend the rest of the late afternoon and evening being "tourists". And it wasn't long before we noticed that wherever you roam, there's always the sound of authentic Caribbean music drifting through the air. Of course, being tourists meant hitting several shops and sites along the way and eventually stopping for dinner at one of Rodney Bay's restaurants before enjoying the first of many "sundowners-to-come" beneath a golden/amber sunset at a bayside bar. After all that, it was back to our catamaran for a good night's sleep aboard our yacht.
DAY 2…Soufriére & the Pitons
This was actually our first morning waking up on board our yacht. To make things perfect, our day began with a little chef-prepared, on-board breakfast while we gazed out over the Bay before preparing to set sail. There's always something about starting the day on the water that stirs the appetite like no other setting. The yacht's covered on-deck dining area—located by the aft cockpit—provided both a little privacy and yet an open-air feeling. It was richly, yet practically furnished with warm, teak chairs and a long dining table from a company called Westminster Teak that were a perfect fit for this expansive fully-crewed Moorings 5800 Catamaran.
Our host crew had mentioned that the dining ensemble was from that company's Barbuda Collection that features teak folding chairs with an expansive oval extension Montserrat table that can seat up to 10. Apparently, The Moorings like furnishing their larger yachts with Westminster Teak pieces because they're stately, very comfortable and durable. Plus, their sleek, natural wood design not only looks great on deck but holds up especially well under open-sea sailing conditions. (Note to self: "Check out www.westminsterteak.com for our patio, pool and gardens when we get back to the States.")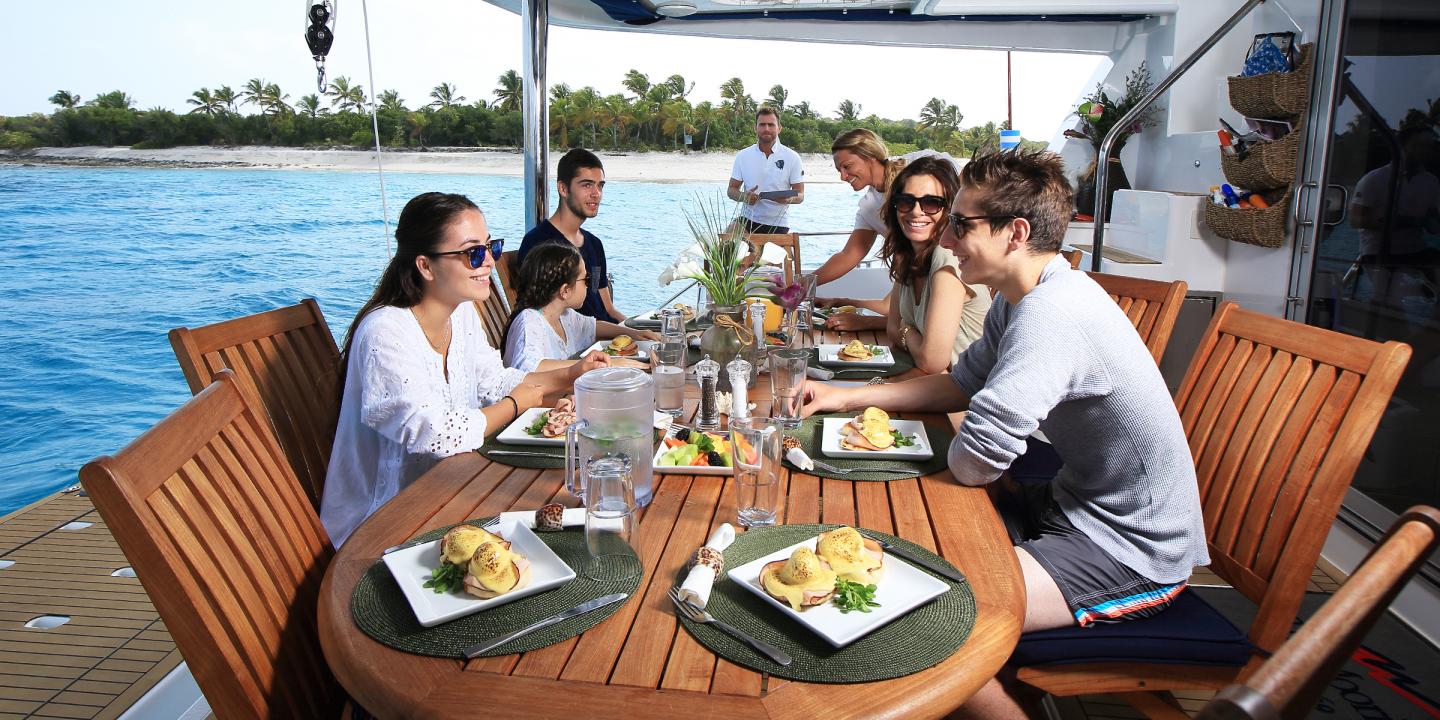 To get a sense of exactly where we were in relation to this 7-Day charter, our route began on the upper northwest side of St. Lucia and then curved inward gently down the west side of the Windwards to St. Vincent and the Grenadines. (NOTE: From a larger geographic perspective, if continuing in this pattern and adding an extra couple days, this same course would eventually have taken us to Trinidad and all the way to Barcelona, the capital of Venezuela.)
After sailing south from Rodney Bay down the west Caribbean coast of St. Lucia, our first shore stop was the small former French colony of Soufriére (French for "sulfur" and the original capital of St. Lucia); a town named after a famous nearby dormant volcano of the same name. Its Creole-type buildings with gingerbread trim immediately bring an Old World flavor to all the restaurants and quaint shops throughout the village. And, the welcoming waters of Soufriére Bay provided us with perfect yacht mooring while we set out to explore inland.
That exploration included beautiful beaches, hot springs, mineral baths, waterfalls, bike trails, the Diamond Botanical Gardens and the Anse Mamin sugar plantation. And the crowning glory of Soufriére is, of course, St. Lucia's world-famous and forever-photographed twin conical mountain peaks of Petit Piton and Gros Piton.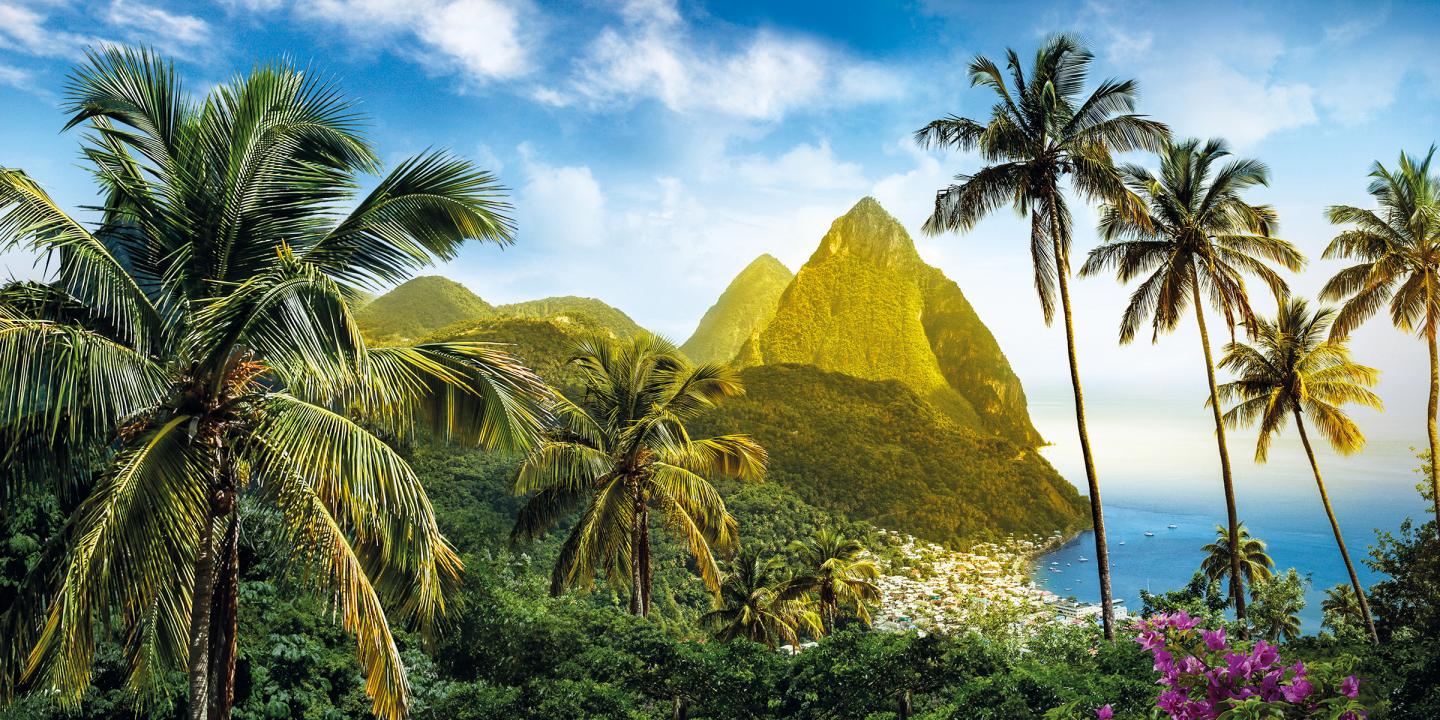 If there could only be one image to capture the essence of St. Lucia, it would be the twin Pitons. Majestic yet embracing, the Pitons are wrapped in a pristine shoreline that welcomes both boats and bathers. And we indulged our senses in all of that spender before reboarding our luxury catamaran.
DAY 3…Admiralty Bay & Bequia, Grenadines
"Sailing takes me away to where I've always heard it could be. Just a dream and the wind to carry me." "Sailing" by Christopher Cross seemed an apropos song for this, our third day, which found us sailing away from Soufriére, St. Lucia. We headed south almost 56 nautical miles to reef-lined and historic Bequia, the second largest island in the Grenadines; a small stretch of pristine islands that are part of the country of St. Vincent. The name, Bequia, literally means "island of the clouds" in the ancient native language of Arawak. For anyone lingering here, you could easily get the sense that these Grenadine islands were more ethereal than ephemeral.
We were gliding serenely in our Moorings 5800 Catamaran like a dolphin at play through gently undulating, royal blue waters. Our upward-reaching sails were playing catch with the Caribbean trade winds as we ventured down along that string of small and ever-beckoning Grenadine islands that seemed to glisten on the near horizon. With that imagery laid out before us—and keeping true to our musical theme—there's always David Crosby's typically poetic song, The Lee Shore, "From here to Venezuela nothing more to see than a hundred thousand islands flung like jewels upon the sea…" And, as noted earlier, had we just kept on sailing, we would have, indeed, ended up in Barcelona, Venezuela.
When we pulled into Admiralty Bay at the island's only official settlement, Port Elizabeth, we were eager to go to shore and check out the curious variety of shops, boutiques, and architecture; much of which carried a strong nautical theme. In fact, Bequia is uniquely rich in maritime history, has a long fishing tradition and—per the International Whaling Commission—still allows some whaling via open sailboats often crafted from wood by local artisans.
The rest of our day was spent soaking up the sites of Bequia and Port Elizabeth. Then we made a late afternoon stop at Whaleboner Bar for drinks and a beachside cookout to relax and refresh before heading back to watch another amazing Caribbean sunset from the deck of our yacht.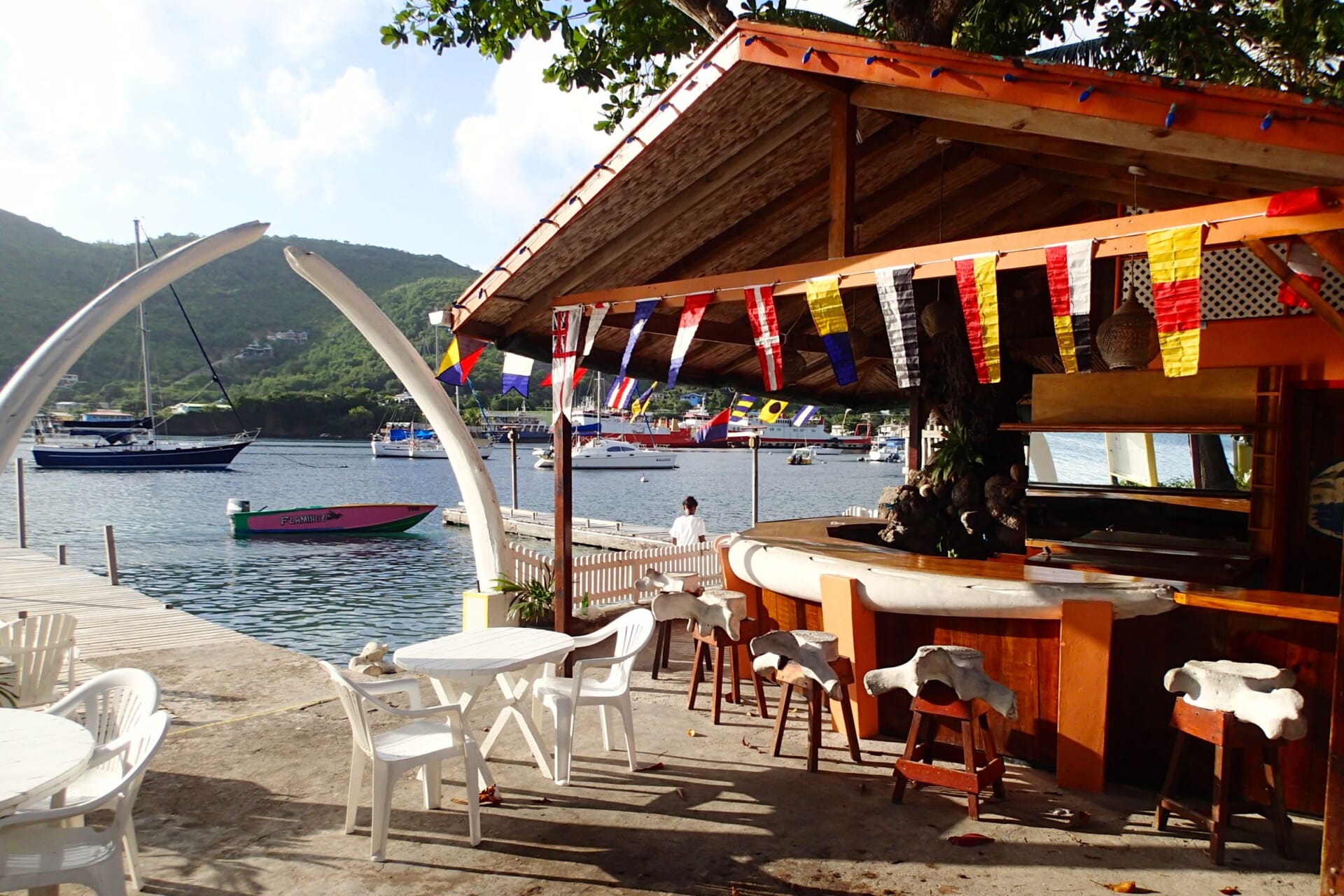 (Whaleboner Bar)
DAY 4…Salt Whistle Bay, Mayreau & the Tobago Cays
Back on the water and sailing just 24 nautical miles southeast of Bequia delivered us to Salt Whistle Bay on the northern tip of Mayreau Island in the Grenadines. This is the place to start when seeking out the Tobago Cays Marine Park with its white sandy beaches and crystal-clear waters. The Tobago Cays are a favored destination for Caribbean visitors and are set just offshore to the west of Mayreau Island. This is one of the best spots for diving and snorkeling for that up-close experience with amazingly colorful underwater life. It's also famous for its spontaneous local lobster beach parties. And that's exactly how we spent most of the day. ("cay" is a primarily Caribbean word for a smaller, low sandy bank or coral and rock reef-type island. It's synonymous with the term "key" typically use in reference to the Florida "keys")
DAY 5…St. Vincent – Blue Lagoon & Young Island
Heading north to St. Vincent and the immediate surrounds highlighted our 5th day. Our Moorings yacht crew took us through the waters of Young Island Cut to the southern end of St. Vincent.
There's no end to what awaits in St. Vincent including an easy connection to Long Island Cut plus a string of incredible restaurants which line the St. Vincent shoreline. So, we went ashore and literally bar-hopped our way through the day and into the night towards the enchanting Blue Lagoon harbor where we feasted on an elaborate spread of barbequed seafood and all the local culinary delights you'd expect to find in this, yet another, Caribbean paradise.
DAY 6…Marigot Bay, St. Lucia
On our return route, we left St. Vincent and the Grenadines and sailed north again back to St. Lucia and Marigot Bay. This is a premier St. Lucia super yacht marina with protected blue waters, verdant hills and featuring luxury vacation rental homes, condos, villas and cabins…either tucked away among village hillsides or dotting the beach shoreline. It's a bit secluded and very upscale with luxury accommodations such as the Marigot Beach Club and Dive Resort.
Once moored, we ventured into its Marina Village. Up above and dotting the surrounding bay hills are charming red-roofed, white stucco-like homes overlooking the bay and ocean. The Village Marina offers incredible waterfront restaurants featuring a rich menu of French, Creole and authentic Caribbean cuisine. And, as we soon discovered, Marigot Bay is considered perhaps the most scenic of bays in all the Caribbean with panoramic views and breathtaking sunsets.
DAY 7…Upper Northwestern St. Lucia & Rodney Bay
Sailing back to our initial St. Lucia starting point gave us time to relax and reflect on our voyage to some of the world's most exotic and favorite charter yacht destinations…all located within easy travel time to the sparkling bejeweled family of enchanted Caribbean islands. While skirting the waters from Marigot Bay up and around to the Moorings' marina at Rodney Bay, we couldn't help but measure the experience as nothing less than magical.
With all the alluring charm and excitement of every port along the way, there were also those many silent moments just sailing the waters with The Moorings' captain and crew aboard catering to our every whim. It was those times that balanced out our days of busy adventuring with scenic splendor and gave everything a richly unique perspective.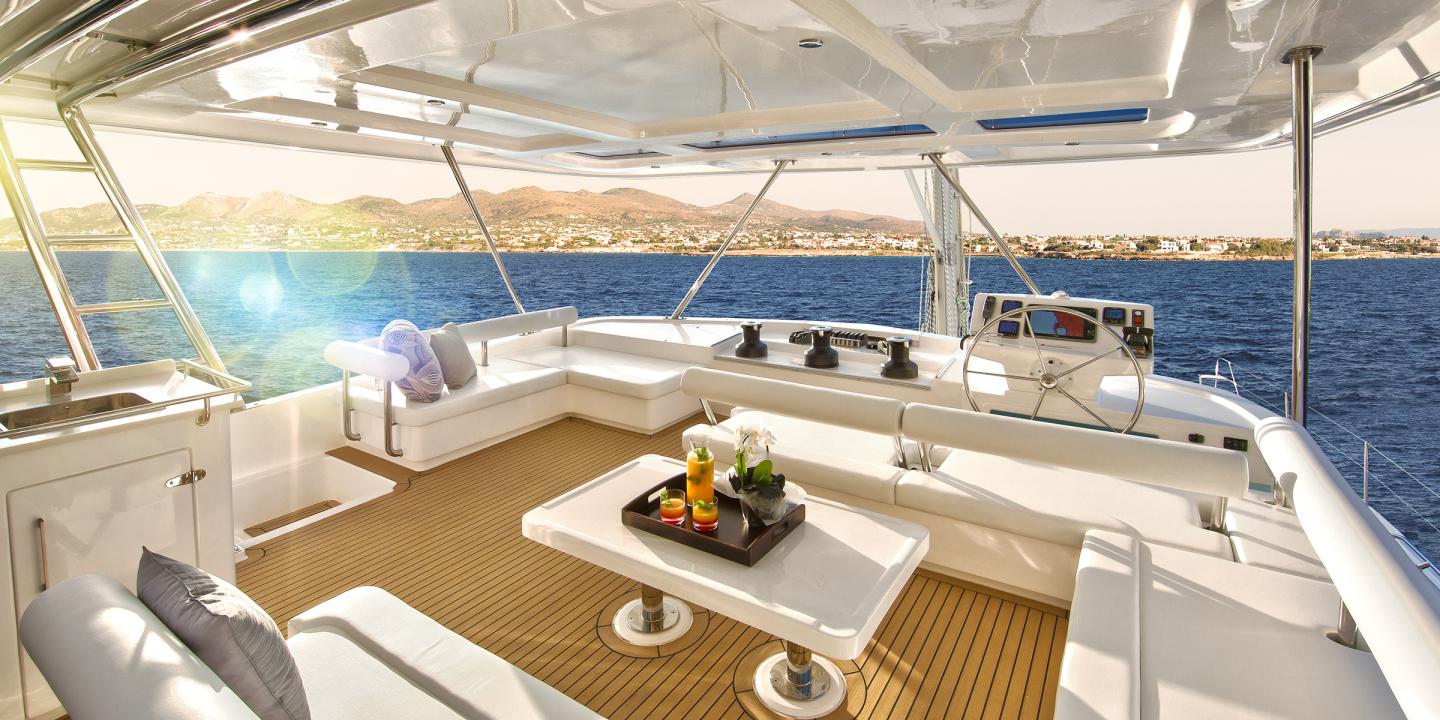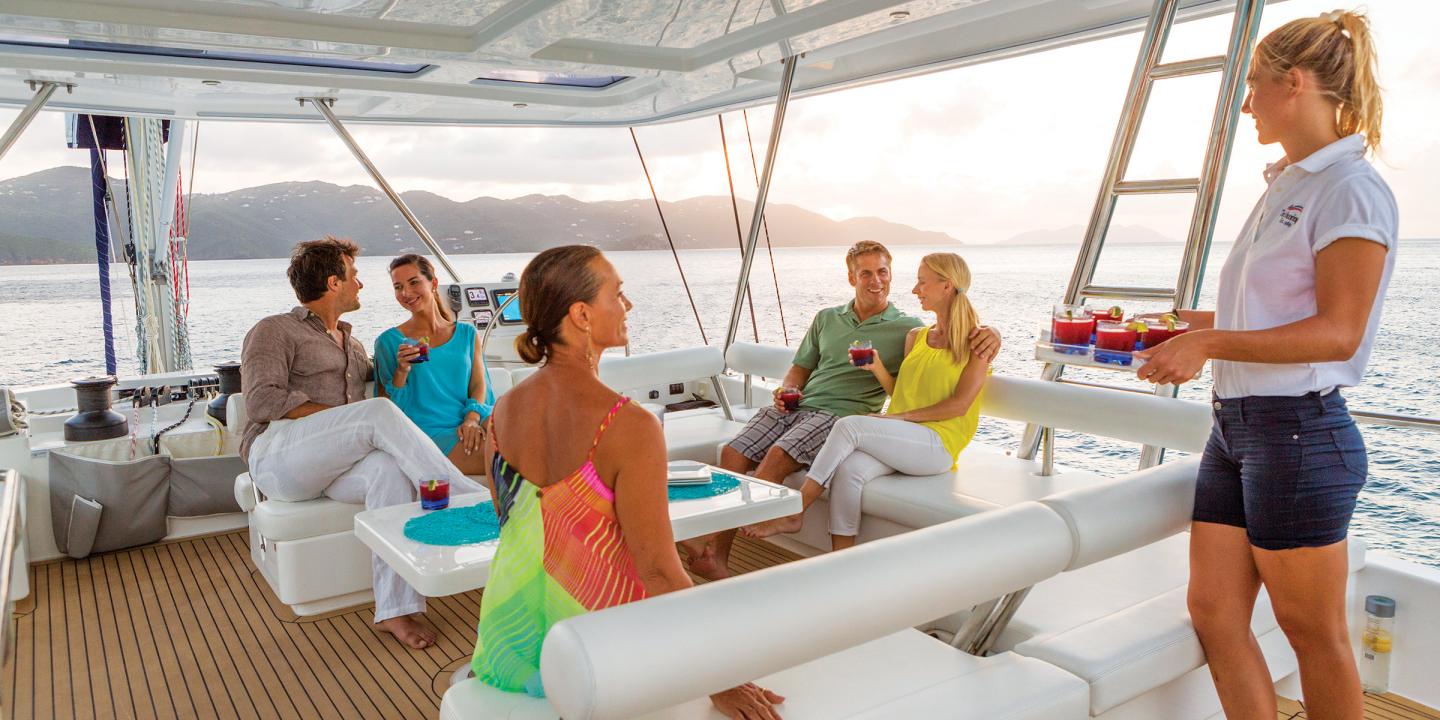 Whether casually taking the dingy out to some secluded pearlescent shore to relax in a hammock and gaze upon endless beauty in all directions…or stand up paddleboarding on placid aquamarine waters with not a care in the world…snorkeling among the colorful coral reefs and swimming among swirling schools of fish and sea turtles…simply lounging on deck, bathing in the soft sunlight, gliding effortlessly upon undulating ocean swells, listening to trade winds fill and ruffle our sails while simply enjoying the comradery of close friends and cocktails…or taking a deep breath and watching another spectacular sunset…it was often those quiet times between ports and sailing upon the warm blue sapphire and turquoise Caribbean waters that seemed to transcend all sense of time and all mortal boundaries.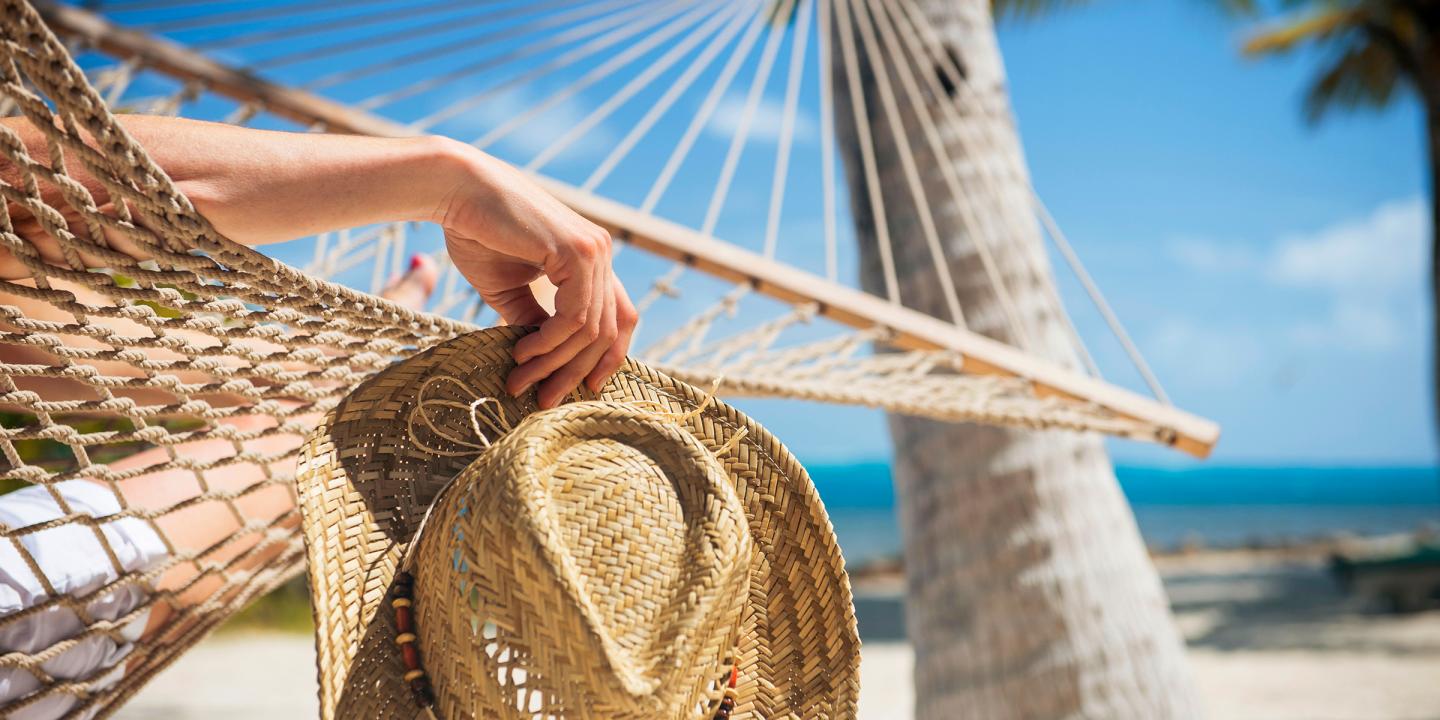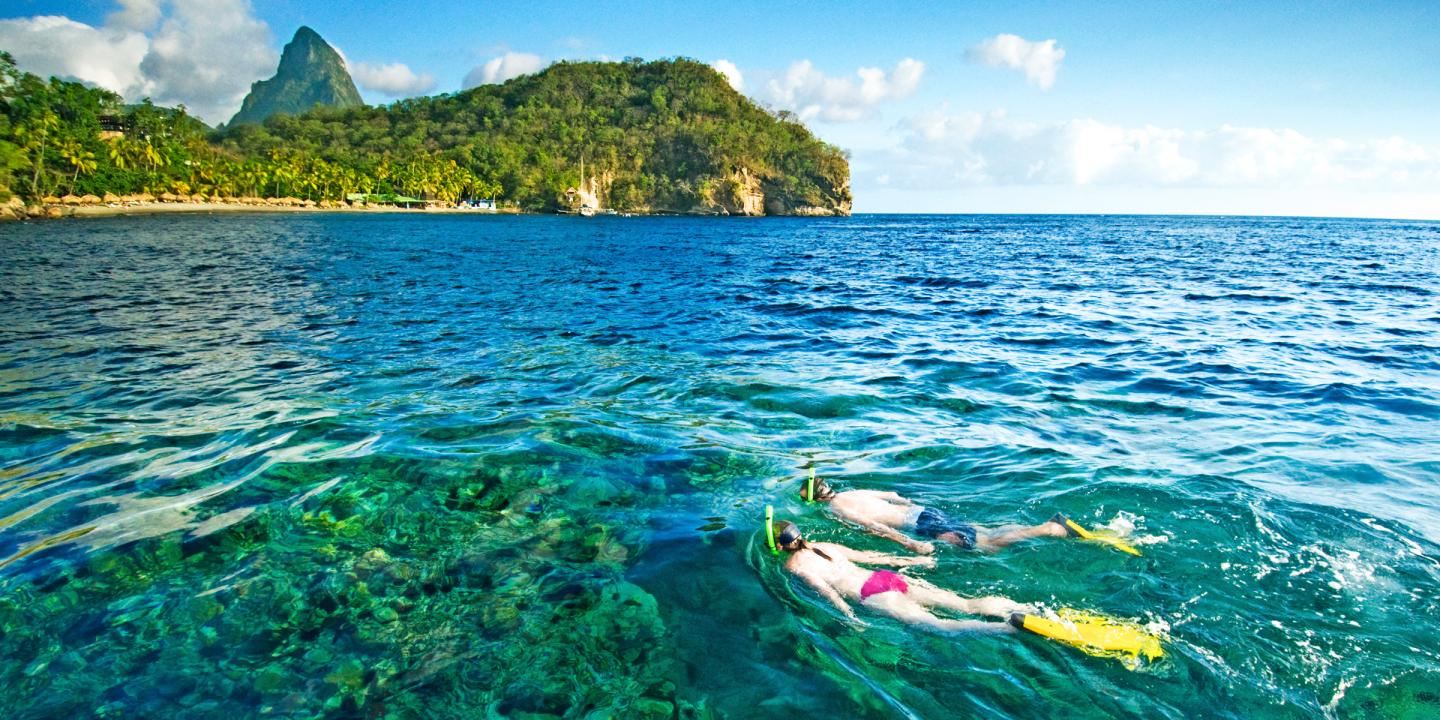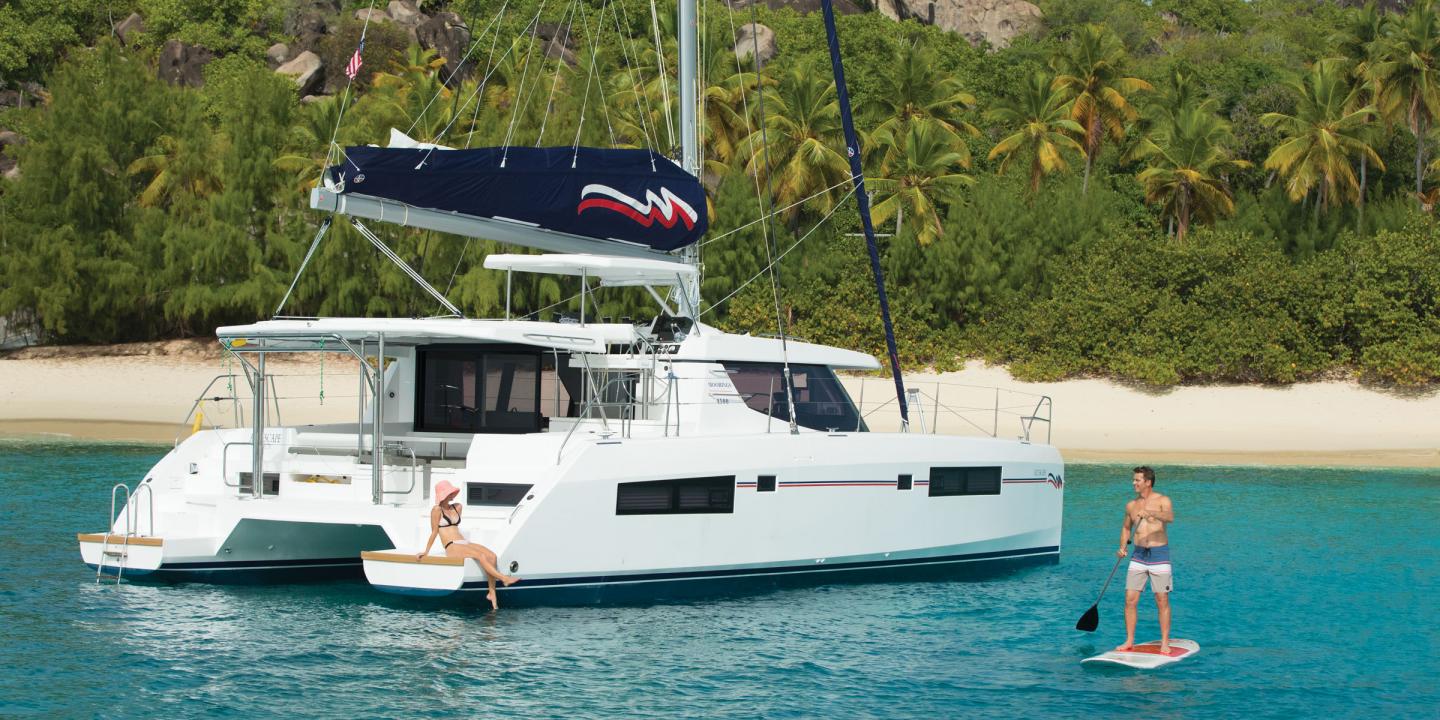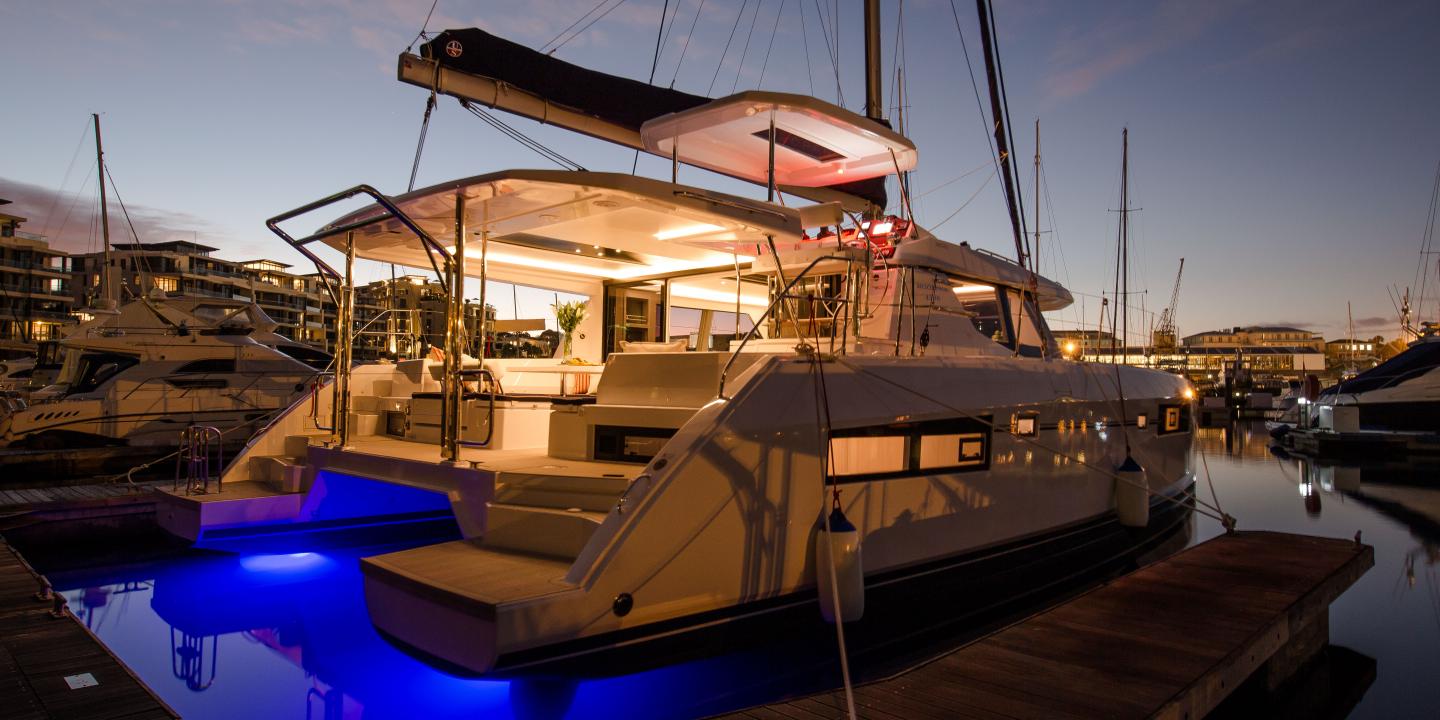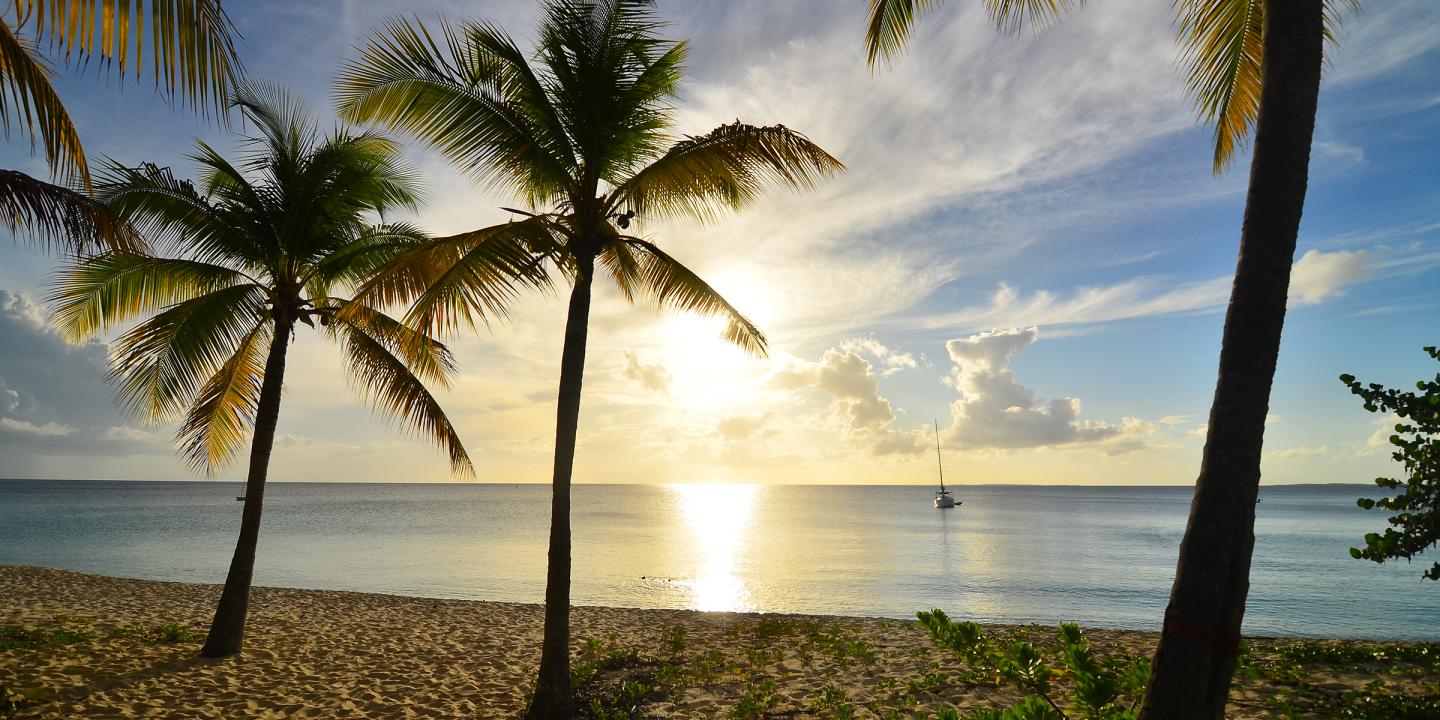 POST SCRIPT
And we'll do it again. Perhaps the popular St. Lucia and Martinique Rum charter or the historic Greek Isles Mediterranean package or even an altogether other-worldly trek to Thailand. With The Moorings' many enticing charter packages to choose from, the only remaining questions are—once again—"Which one first and how soon"? As Christopher Cross penned, "It's not far to Never Never Land. Fantasy. It gets the best of me when I'm sailing."